Religious Studies is an excellent choice at A Level for anyone keen to study the 'big' questions of meaning, purpose, belief and how we decide what is right or wrong. It appeals to students who are interested in exploring philosophical and theological issues from a range of different perspectives in order to gain a deeper understanding of them and to better understand and articulate their own thoughts and arguments. The course is structured around the disciplines of the Philosophy of Religion, Ethics and Theology.
OCR H573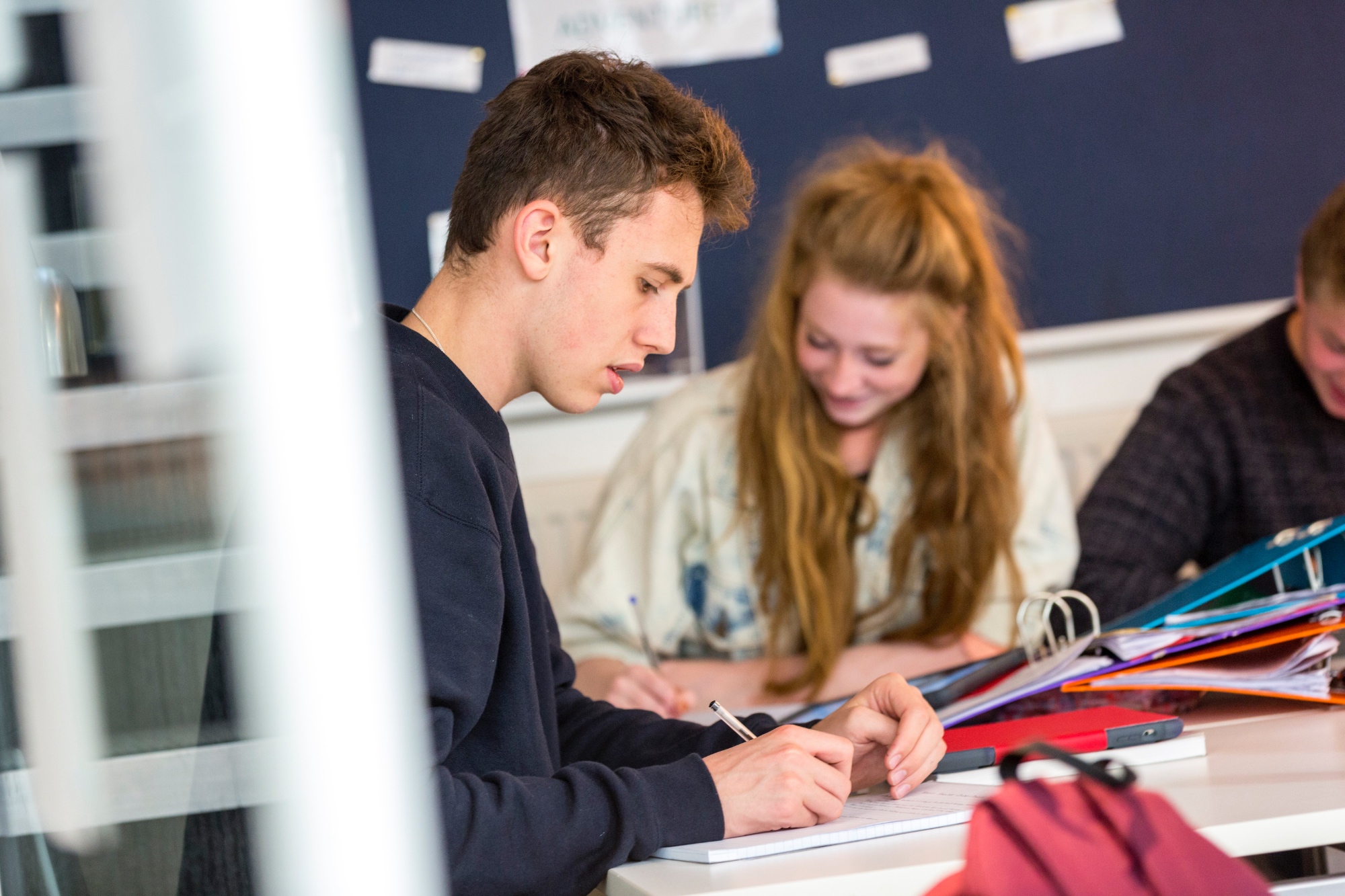 The Ethics strand of the course deals with questions such as 'What makes an action right or wrong?', 'What is the conscience?' and 'Is euthanasia ever acceptable?'. In the Philosophy of Religion, students engage with questions like, 'Do humans have souls?', 'Does God exist?' and 'Is religious language meaningful?'. The Theology strand (called Developments in Christian Thought) deals with questions such as 'Does sin mean humans can never be morally good?, 'Would God deny any human being salvation?' and 'Is the idea of family culturally determined?'.
Students learn about the ways in which key philosophers and theologians, such as Descartes, Kant and Augustine, have approached many of the important questions of human existence. But just as importantly, students develop their skills in argument and the critical assessment of different points of view, learning to write fluent, well-constructed and well-justified essays on a variety of themes.
There is no requirement that students have studied GCSE Religious Studies in order to take this course.
Course content
The course will consist of three papers:
Philosophy of Religion - A variety of philosophical issues and questions will be studied as well as an exploration of philosophical language through key concepts and thinkers.

Religion and Ethics - A study of ethical language and thought through significant concepts and key thinkers. Normative ethical theories will be studied and applied to contemporary issues.

Developments in Religious Thought - A systematic study of Christianity which will include a look at teachings, sources of authority, how traditions have developed over time as well as responses to challenges and contemporary social issues.
Assessment
Paper 1: Philosophy of Religion
2 hours. 33.3%
3 essays out of a choice of 4.
Paper 2: Religion and Ethics
2 hours. 33.3%.
3 essays out of a choice of 4.
Paper 3: Developments in Religious Thought
2 hours. 33.3%.
3 essays out of a choice of 4.
FAQs
Do students need to be religious to study the course?
Religious Studies is appropriate for people of any religious belief or none. There is no requirement of knowledge of any religion or commitment to any faith or set of beliefs. Examiners are not interested in judging your personal beliefs but in assessing your skills in criticising or defending ideas and arguments.
Do students need to have studied RS GCSE in order to study the course?
Some students who take RS at A Level have studied the subject at GCSE, but this is by no means essential. Some of our most successful students have had very little or no background in the subject.
How does A Level RS differ from A Level Philosophy?
There is a great deal of overlap between the RS course offered at SPF and the A Level Philosophy course offered at other sixth forms. Common to both is the study of Ethics and Philosophy of Religion. But in addition to these strands, the RS course also has a theology component, which considers the key theological ideas and issues which have shaped Christianity and have continued relevance in society today.
What do RS students go on to study at university?

Many students develop a real passion for the subject in the sixth form and decide to continue with it at university whether this is by combining Philosophy and Theology, by focusing on one of these two strands or combining one of them with another subject.
Popular pathways for other RS students include Law, Liberal Arts and Medicine. However, the analytical and evaluative skills engendered by the subject - being able to think and write clearly and critically, constructing logical and well-justified arguments - are highly valued in a wide range of academic contexts.