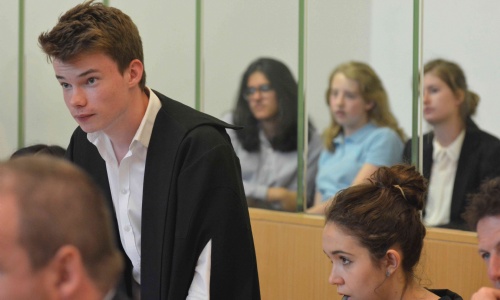 Mock Trial 2014
Published 18/12/16
The theft of a £15,000 diamond ring was the focus of a trial recreated by sixth formers in Cambridge.
Students from Stephen Perse Foundation, Netherhall and The Perse schools took on roles as barristers, solicitors and jurors and used original, adapted papers for the re-run of a genuine burglary trial at Cambridge Crown Court.
Judge Gareth Hawkesworth has allowed the mock trial to take place at the court since 2009 and addressed the students before Karim Khalil QC, from One Paper Chambers in London, sat as judge for the trial of two suspects on burglary charges.
Mr Khalil was a prosecutor in last summer's murder trial into the crowbar slaying of Chittering pensioner Llywelyn Thomas, which saw defendants Frankie Parker and Gary Smith jailed for life.
Offering coaching and advice, he was joined by colleagues from London and Fenners Chambers in Cambridge in the event organised by the Stephen Perse Foundation and made possible by the Cambridge and Peterborough Bar Mess and court staff giving up their time.
Stuart Jack, Director of Sixth Form , said the students handled themselves very well in the formal setting. "Speaking in front of such highly qualified and experienced barristers could be daunting. To do this, and so well, in Cambridge Crown Court is an amazing achievement and something that all will remember for years."
It was the sixth year the mock trial has been held, but the first time the defendants were acquitted.
Read more: http://www.cambridge-news.co.uk/Cambridge/15k-diamond-ring-burglary-trial-recreated-by-students-from-Stephen-Perse-Foundation-Netherhall-and-The-Perse-at-Cambridge-Crown-Court-20140705060736.htm#ixzz36cuBJKzk
Read More