Published on 16/03/17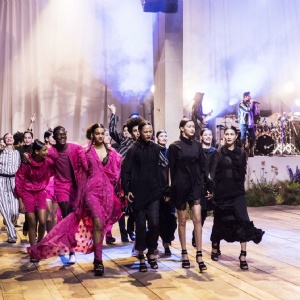 Women's role in society has expanded and grown throughout history and now their image is catching up.
By Alex Cullen and Kitty Pickthorn
Glancing at this year's Spring Summer collection, one of the most standout trends of women's clothing in many major brands has been the colour pink. The colour most stereotypically associated with women and girls. As soon as expectant parents learn the sex of their baby, they know straight away what colour clothes they want to buy for their child, based wholly on gender. So, pink's comeback into women's clothing could be construed as a step back to more suppressed choices. However, pink is brighter than ever- with magenta and fuchsia in the limelight rather than baby pink and muted tones. Could this be a nod towards a new kind of femininity, acknowledging past views, while reinventing past values?
From the 17th century, pink was the typical colour worn by young boys, it being seen as a kind of 'young red' (the colour worn by the army). In short, the colour pink was a symbol of strength to come. Throughout this period, pastel pink was the only shade possible with the dyes available, but the colour had a multitude of implications and insinuations from sexuality to innocence, masculinity to femininity and strength to tenderness. So pink has had a paradoxical history. In recent years the colour pink has been used to weaken and objectify women: male nightclub managers put their female bartenders in ill-fitting, short pink dresses, while the male workers wear plain black. Pink is used to patronise and limit women as they are labelled as "girls" snubbing a woman's growth in society. Even in the modern day and age, pink and blue act as labels of the sexes. Emojis associated with the female sex are seen to have pinks and purples within their design and with society's previous labelling of women, these emojis are automatically associated with females.
Pink has been all over catwalks, magazines and street style. So pink is back, bolder and brighter than ever; rethinking the past connotations it has as representing weakness and passive femininity. You can see these changing attitudes by comparing the nineties catwalks with its see-through pink slip dresses to today's bright practical pantsuits: a change from the party hedonist to the professional woman. It seems that this is not just a trend- it is more than that. Practically all major high fashion brands have amplified their Spring and Summer collections, to name a few: Valentino, Gucci, and Chanel. Unlike other trends, pink is big in the high street shops too. Magazines have described this trend as a 'statement colour', saying that now was the time to 'rethink pink'.
This trend seems well timed in the world of fashion and feminism. Dior's statement shirt quoting Chimamanda Ngozi Adichie's feminist essay 'We should all be feminists' received large press coverage. Other high profile feminist clothing included caption T-shirts reading: 'The Future Is Female', 'This Is What A Feminist Looks Like', 'Nasty Woman', 'Pussy Grabs Back' and 'Feminist AF'. Many fashion companies supported charities that help women and girls by selling these slogans. Wearable feminism was very visible in women's marches across the world. Many slogan tees were directed at Donald Trump and his sexist behaviour, and so were worn by men and women at demonstrations against him. The pink trend has come about because of this need for feminism that now, particularly, is paramount. It represents the need to celebrate and encourage women, with a message of unity.
Throughout history, women have been labelled as weak and powerless with the colour pink being used to patronise and oppress. But now more than ever women are creating their own image with the use of this colour. This trend embodies women's empowerment, by altering pink's presence in fashion to bolder, brighter hues, so that women are able to stand out and be noticed for the right reasons. Women are now acknowledging and rejecting the previous meaning of the colour pink and reinventing what the modern women is, which now, more than ever, is vital.